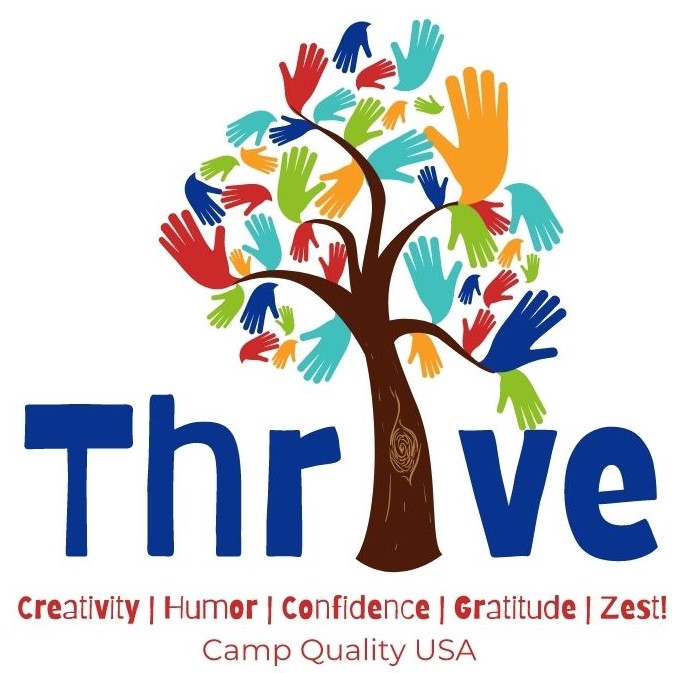 "The question is not how to survive, but how to THRIVE with passion, compassion, humor and style." – Maya Angelou
At Camp Quality we are exploring "how to thrive" during this summer's CAMP IN (virtual camp). The Thrive theme will be central to CAMP IN as an important life skill. Each day we will reflect on the attributes that help us thrive – creativity, humor, confidence, gratitude and zest!
Camps will open with a kick-off style event that families may attend, or some camps will bring the kick-off to your front door as they deliver a backpack filled with daily activities and supplies that follow the Thrive theme. There will be activity cards for each day of camp with art, nature, and self-reflection activities. The supplies campers need to complete each activity will be included in the backpack. Additionally, campers will receive a camp t-shirt and fun items that reflect camp traditions.
During the week of camp, we will provide interactive virtual camp sessions with live streams via Zoom and videos via Flipgrid. The virtual camp schedule of activities will be provided in the backpack along with access instructions. The schedule will also be posted on the camp's webpage closer to camp.
Camp Registration opens April 1st.
2021 Summer Camp News from Laura Vaughn
Since I haven't had the opportunity to meet most of you, I want to introduce myself before sharing very important news about the 2021 Summer Camp. I had the great honor of joining Camp Quality USA as CEO three months ago. I have spent my 30+ year career with non-profits with the majority of my time working to eradicate cancer. In my short time with Camp Quality, I have learned that there isn't a more committed or compassionate group of staff, volunteers, campers and their families.
It is no secret that 2020 was tough. That's an understatement. 2021 came roaring in with a vengeance and uncertainty still looming. At Camp Quality, we want nothing more to host camp. We want to see the kids. We want to see them smile and hear them laugh. That's what we do…but there is this darn thing called a global pandemic. We must keep everyone safe. Unfortunately, we aren't going to be able to host the traditional residential camp. Tough stuff.
What we are going to do is have an amazingly fun week with our campers through a digital platform. We are going to have such fun with our Camp-In theme, THRIVE! Campers will receive a backpack FILLED with "THRIVE" themed activities, materials and goodies. The THRIVE program will help campers explore how to use their creativity and humor, grow in confidence, be grateful for all things small and large and to have a zest for life and their important place in the world. Camp staff and volunteers will provide fun activities every step of the way. It will be a great week.
We know Camp-In can't replace our traditional summer camp experience, but it's a way for us to come together to laugh, share and find a sense of hope through our very special Camp Quality community. I know your camp families miss you so I hope you will join us.
I can't wait to meet you in person one day soon when it's safe. We will be sharing more details with you very soon. In the meantime, if you have any questions, please reach out to your camp directors.
All my best,
Laura Vaughn, CEO, Camp Quality USA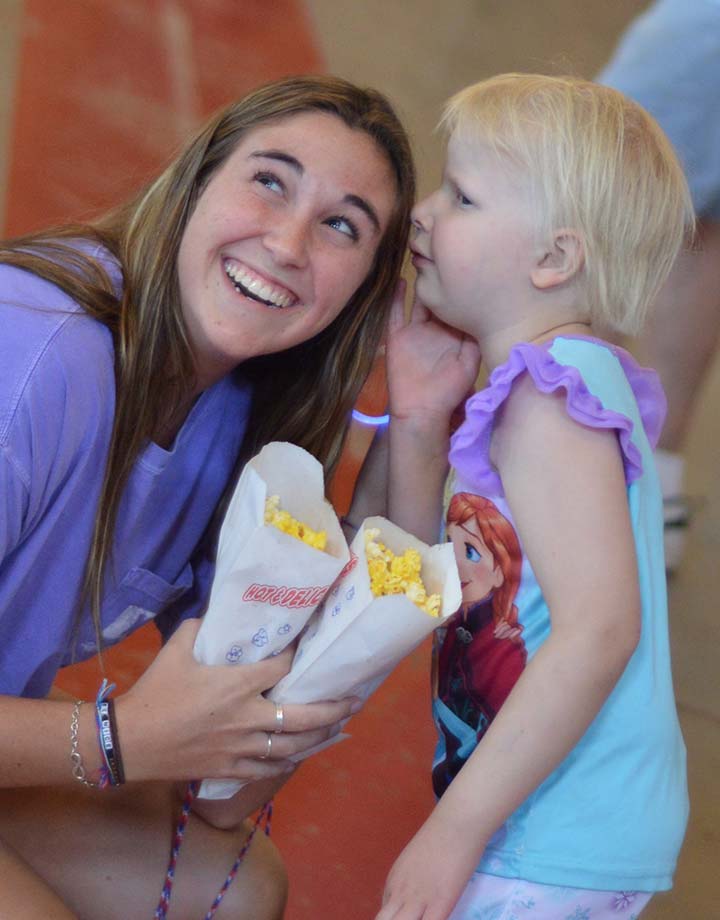 Welcome to Camp Quality USA
Camp Quality is truly amazing and it changes the lives of everyone involved FOREVER!! The children at this camp are without doubt the most inspiring people I have ever met. ~ Camp Quality Volunteer
Camp Quality hosts week-long overnight summer camps at 18 locations in 13 states. Most of our locations offer additional year round events including teen weekends, family overnights, sibling retreats, reunions and much more! We dedicate ourselves to offering not only opportunities for our campers to be kids, but also for their families to spend much needed time together. Please check individual camp websites to see local programming.
Volunteer
"I volunteered for Camp Quality so that I could give back to my community, however, I got back more than I ever anticipated in return."
Our Campers
"Being with the other kids who were in the same boat as me gave me faith and hope that we were all normal. We were kids after all."
Great.com features Camp Quality USA!
Our Camp Quality USA Board President, Anneliese Kulakofsky, was featured on the podcast, great.com to share extraordinary mission of our organization! Please take a moment to listen or watch the video.
A GREAT big thank you goes to great.com for featuring Camp Quality USA!
Our Mission
Camp Quality serves children with cancer and their families by providing year-round programs, experiences, and companionship, at no cost. Camp Quality promotes hope and inspiration while helping children foster life skills and develop their full potential.